Accuray Incorporated is a radiation oncology company that develops, manufactures and sells precise, innovative treatment solutions that set the standard of care with the aim of helping patients live longer, better lives. The Company's leading-edge technologies deliver the full range of radiation therapy and radiosurgery treatments.
Accuray does not assume a duty to update information on this website, except through the normal quarterly financial press releases and regulatory filings.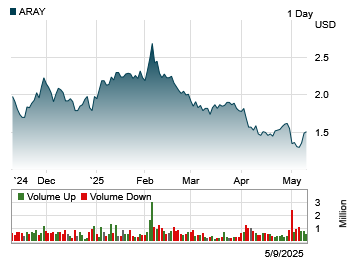 Data provided by Nasdaq. Minimum 15 minutes delayed.
There are currently no events scheduled.
Some documents in the Investor Relations section require that you have Adobe Acrobat Reader® installed in order to view files in PDF format. Download the newest version of Acrobat Reader